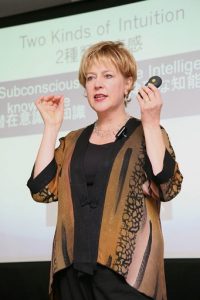 Quick Wins interview with bestselling author and Intuitive Advisor Lynn Robinson, one of the nation's leading speakers on the hot topic of developing and trusting our intuition. She teaches how to tap into the power of your "Inner GPS" Her clients consistently praise her uncanny intuitive insights as "spot on," resulting in personal clarity, creative solutions and overall business success.  Lynn has authored seven books on intuition that have been published in over 15 languages.
"Make today the day you start trusting your intuition."
In today's episode, Lynn defines intuition and explains how it should be a key skill for consultants use for their decision-making success and shares a techniques to help you tap into your inner voice in a way you can create insights and creative solutions for your clients as well as bring clarity to your life.
Links from today's episode:
Download a free copy of The MECE Muse Manifesto of Great Consultants. The Manifesto is a set of guiding principles. The manifesto is a set of guiding principles from the book designed to provide a daily reminder of selected practices, unwritten rules, and habits of great consultants.
Help improve The MECE Muse Unplugged podcast – thank you for your feedback!
Lynn Robinson's website  | Download free copy of "How to listen to your inner CEO"
Podcast: Play in new window | Download | Embed
Subscribe: Apple Podcasts | Android | Email | Google Play | Stitcher | TuneIn | RSS | More