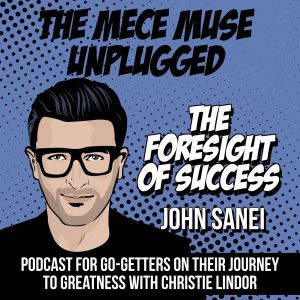 In today's show, we have a special conversation with one of my favorite go-getters John Sanei . John is an entrepreneur, innovation strategist, best-selling author and global speaker who talks about the future with a unique twist.  He is a rising thought leader; by combining human psychology, future studies and business strategy, he guides audiences and leaders into an exponentially different future with excitement and optimism.
Originally from South Africa, John has now moved to Dubai and released his third book called Foresight.  In this interview, we talk about his early life, some of the challenges he has faced and his new book called Foresight.
Tune into this thought-provoking discussion on a range of topics, mostly focusing on how to predictively create your future.
Links from today's episode
Podcast: Play in new window | Download | Embed
Subscribe: Apple Podcasts | Google Podcasts | Stitcher | Email | TuneIn | RSS | More